Froggy's Memories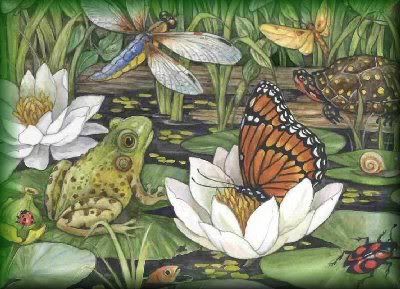 A lil froggy sat upon her lily pad.
Looking through her treasure
box. Her box was made from
sun beams with a ribbon given
her by the rainbow. To keep her
prized possessions safe.

So many memories among my
souvenirs. Each one a tribute
of love to each I hold dear.
She hums to herself a song
from her childhood. One her
mother taught her. The words
to this song were in her treasure
box written out by her mother
and sealed with a kiss.

There was also a golden ball
given to her by a prince to
remember him by. She sighs
as she finds a flower preserved
in a glass case. This was given
to her by her first love. The one
who noticed her among the lily
pads.

A silver mirror so she could
look into her spring green
eyes. When she gazed into
this mirror she could see her
father's image behind her.
For he was the one who gave
her this keepsake.

Froggy gently runs her tiny
green hand over her memories.
Froggy has other treasures. For
she knows a souvenir is not
always something you can
touch with your hands.
But something you can
feel with your heart and
see with the eyes of your
soul. These treasures
come to you in dreams where
you touch again.

Lil froggy gently closes the lid
of her box of love, looks to the
sun and sends her parents
hugs in the rays of the sun.
With her box safely stored
in it's hiding place she
starts to sing to bid good
night to the setting sun.

A memory once made
is always and forever.


Click here to get Rainbow Connection at EZ-Tracks.com
By blueswolf
© 2014 blueswolf (All rights reserved)