Shadow of the Ivory Fountain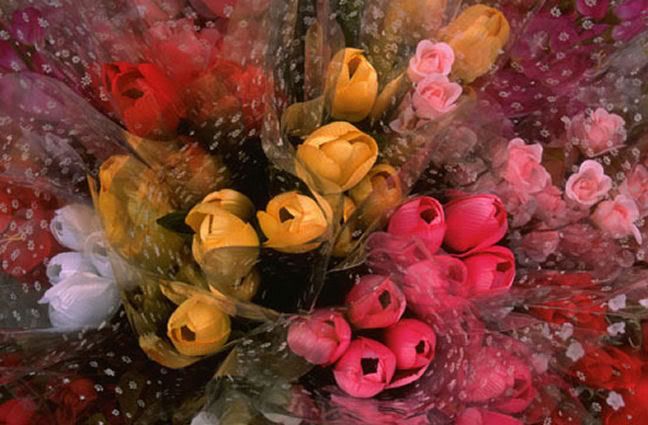 As the Knight strolled between the long...
Cold and hard block walls of the castle halls.
He stopped for a moment to study the slow ~
Burning lanterns slightly swaying on...
Their dragon cast mounts.
Above which, within their dim lights.
Tiny wings of leafless dust took flight.
In quest towards the sounds of the spouting~
Ivory Fountain. Amid a highly
decorated golden pool.
And spent journeys towards an open door...
On a balcony...To find an ancestral path.
Towards gallant mountains, To once again
Place their bets upon earth's canvasses...
When suddenly... A sweet glaring fragrance.
Captured the unguided thoughts of the Knight.
Reminding him of his brave and endless search~
For his lost princess ~ Stolen from him
before his birth... Left to wander in his dreams.
























She appeared from behind the Ivory fountain ~
Her hair spun and beautiful...
Like the finest of Red silk.
The music began to play ~ Softly leaving a
trail of deep emotions and once again...
He could not believe he could feel this
way! He thought that ~
That emotion had laid dead in his heart...
For so long now,
Her image suddenly meeting his eyes
For the first time.
He stared at her ~ Unashamed of his
wandering eyes. A slight blush
came over her cheeks as she stared
back into his eyes.
Her soft features made him stop
in his tracks. He bravely stated~
Would you like to dance.


















He offered his hand ~
She shyly accepted.
They entered the Ballroom
And it was more charming
then she had expected!
Elegant and Classical
Was her first impression.
Soon she was the center ~
Of attention as they danced.
Romance was in the air
Flowers were in bloom
The smell of her perfume
made him slightly aware...
Of how much ~ He wanted
her. As the music ended ~
He extended his arm to her.
Thanking her for the dance
It was the beginning of this romance
That will continue for many years...
All starting from the shadow of the Ivory Fountain.

















~* Penned & Expressed by:©Velvet Mist & ©Misted Knight








By Velvet Mist

© 2008 Velvet Mist (All rights reserved)