Potential for Harmony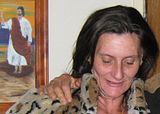 Each week Jean sits there guardedly,
convinced they have motives suspicious,
afraid to appear capitulative
but in need of provisions nutritious.

She'd been homeless for several years now
with a habit she's tring to kick.
This time she feels she might succeed,
that OD last month did the trick.

What can these people hope to gain,
their home abused by dumb 'losers',
she thinks, eying off the blonde hostess
who gives of her heart because she chooses.

Cynical, burned and incredibly jaded,
years of abuse and all hope has faded.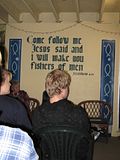 Leah, disabled, aged prematurely,
followed this Shepherd for years,
serving the un-lovely, un-loved, degraded,
one of those 'do-gooder' dears.

Home is this shelter, this palace, this haven;
here where she's useful and needed.
Faith is her armour, her comfort, her shield,
she speaks and her soft voice is heeded.






The two sit together, sharing the dinner;
braised beef, three veg and rich sauce.
All present eat hungrily, savour the taste,
wonder what's on the next course.

Two months ago, Jean, having learned to trust Leah,
confided her story, her past.
Trust is a difficult concept to conquer
but Leah not once, judgment cast.

While they'd been eating the blonde girl was singing;
soft songs which told about God.
Now she was speaking with bold confidence
to the homeless, their path she'd not trod.

Leah, the mother to she who was speaking,
listened, observing, then prayed.
If these folk accepted the message of Jesus,
they'd never need more be afraid.

Her daughter now spoke about blind condemnation,
a young man who wrote upon sand,
told he without sin he may cast the first stone,
in a manner they'd all understand.

When she finished her message they all prayed together;
the broken, the sinners, the lame.
Jean took that first step, accepting salvation,
washed away decades of shame.

There in that back yard, two worlds had collided,
the privileged few and the 'others'.
They held hands together, as one, here united,
no differences - all these are brothers.




By cherryk

© 2011 cherryk (All rights reserved)