~The Searchlight~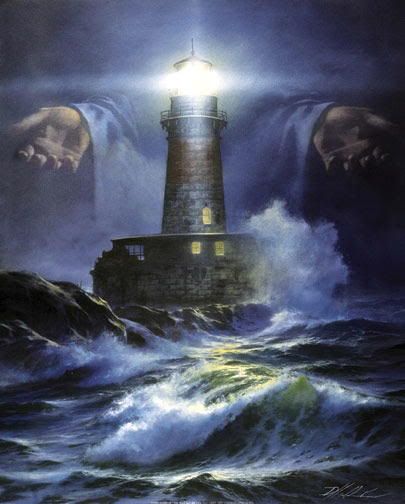 If Jesus turned His searchlight
'Cross the waters of your mind,
There, within the depth of it,
Just what would He find?

A battered ship that's heavy-laden
With regrets and countless doubts,
Being tossed upon a troubled sea,
As it is carelessly thrown about?

Would He see the sails aimlessly blowing
In a wind out of control,
As your thoughts are being shipwrecked
In the dark waters of your soul?

Would He find that drifting vessel
Overburdened with unrepentant sin?
Would He see your life raft floating
In a deadly storm therein?

If He threw a line to save you
Would you reach for it in time,
Before you were lost up
In the storm there in your mind?

Would you run for a safe harbor
Of pure peace and tranquility,
Or would you be wrecked and battered
On the rocks upon that sea?

He has His searchlight blazing,
With one touch He can calm the waves...
With a word from Him there'll be calm waters,
And your ship He can surely save!

So, as He reaches out there to you,
You can safely find
A harbor for your drifting vessel,
An anchor for your troubled mind.

copyright June 9, 2012
By Lynn King

~I am whom I am but by the AMAZING Grace of God. I am but His conduit. To God be all the praise, honor and GLORY...forever!~

Mark 4:39
And he arose, and rebuked the wind, and said unto the sea, Peace, be still. And the wind ceased, and there was a great calm.

By Just4Jesus
© 2012 Just4Jesus (All rights reserved)